SpamCop FAQ
:

SpamCop Parsing and Reporting Service
:
How do I configure Mailhosts for SpamCop?
Mailhost configuration
SpamCop is undergoing a major renovation to the underlying logic which it uses to determine spam sources. Soon, all SpamCop users will be required to use this new system and to complete this additional setup. Some "unique" users may not be able to report all the spam they have in the past.
Why?We are addressing ongoing problems - spammers are finally doing what we have known they could do all along - create really convincing mail header forgeries. These forgeries make SpamCop think spam is being sent from innocent sites, when it is not. Currently, only a few spam forgeries cause SpamCop serious problems, but if we do not solve this problem it will become much worse. Even now, a few mis-identified innocent hosts are a big problem. This system promises to eliminate the forgery problem forever, while avoiding problems caused by other less drastic attempts to mitigate the forgeries. However, it does require more involvement and additional information from SpamCop users.
When? For now, the new system is optional. However, users are encouraged to start using it. Once we have feedback from users and have addressed the most serious problems, it will become mandatory. In the future, we may make other changes which will make reporting spam easier. For example, if we can be sure there are no errors, we may be able to dispense with additional user confirmation steps when spam is submitted.
How? For users with only one email address, the process is easy. Simply log into your SpamCop reporting account and click on the Mailhosts tab at the top of the page. Click on the link at the the bottom of the page to Add first hosts and follow the instructions. For users using their SpamCop email account exclusively, the process is even easier - it is already done. Note: if you forward SpamCop email into or from the SpamCop system, you still have to configure the other email accounts involved.
For users with multiple accounts, the procedure is slightly more difficult. For example, a user with two forwarding addresses configured to forward to one email account should first configure the main account, then configure each of the forwarding accounts: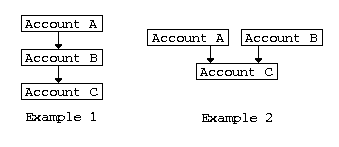 In example 1, Account C should be configured first, then B and then A. In example 2, Account C should be configured first, followed by A and B in no particular order. Accounts should be configured in reverse order of email delivery. That is, if an email is received first at address A, then that account should be the last to be configured with SpamCop.
Warning: If you use this new system, you must complete the configuration process for all accounts where you receive spam. If you fail to complete the configuration for one of your legitimate mail hosts, you may cause SpamCop to attribute spam to it.
Once you begin the migration process, do not report any more spam until the process is complete.
For now, there is an option to revert away from this new system. However, users are urged to try the new system and post problems in the forum rather than reverting. At least, do not do both - reverting your account will make it more difficult for us to diagnose problems.
[Append to This Answer]